What You Need to Know Before You Get Your Hair Cut at a Training School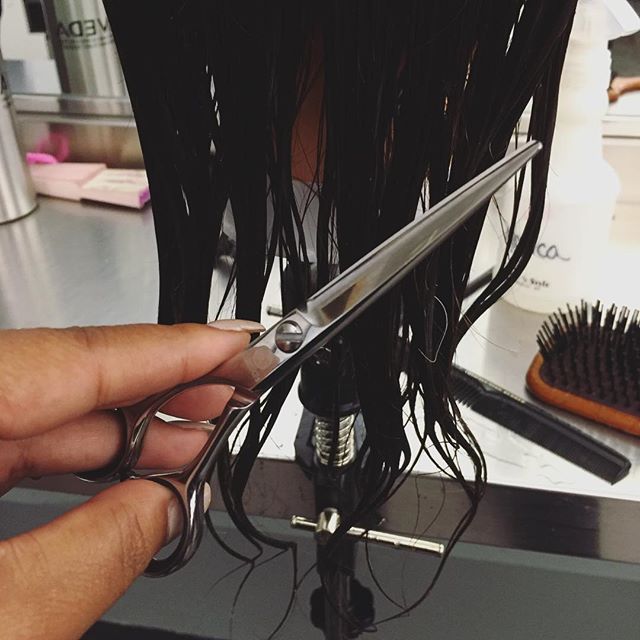 Molly Shea, Beauty and Health Editor at Yahoo! posted the following article on On March 7, 2016.
Thinking about getting a haircut at a training school? Good for you. Not only are you getting a cut on the cheap, you're also helping a hairstylist-in-training. Win-win! But you know everything you usually do to prepare for your run-of-the-mill haircut — bringing in a picture, communicating your vision, and making sure you're on the same page as your stylist? Consider those steps even more important and a little more challenging. To get the intel on how to prep for a haircut at a training school — and how to get the hair you want — Yahoo Beauty tapped Holly Leshovsky, Master Educator at Aveda Institute, to share her insider tips. Here's what you need to know.
You should go to your appointment with multiple photos, plus the right words to accurately describe what you're looking for.
"If you're going to a school, you need to think about what you want beforehand. It's really important to find pictures — not just one picture but multiple pictures. What I find is when people bring in four or five pictures, I'm like, OK, this is the same haircut — they're just styled differently. So your hairstylist will get a very clear understanding of what you're looking for," Leshovsky says.
"Then there's how to describe what you're looking for. If someone says 'soft highlights,' that could mean completely different things to you and me. It's part of our curriculum that we teach students the technical terms and then the guest-friendly terms. For example, what we know as a square, one-length haircut, guests call a bob. That's why a picture is key — when you use a term, it's good for the student to show what you mean."
Don't be afraid to explain your hair to your stylist, even if you're not directly asked.
"The instructor [instructors keep a close eye on student stylists at Aveda Institute and most training schools] will help the student with the consultation because they're in the learning process, but the person sitting in the chair knows their hair the best. So it's always good to keep in mind that they're students and they're learning. Give feedback and tips — it's a great learning experience for students."
If you're on a tight schedule, let your hairdresser know ASAP.
"It's good to tell them right away," Leshovsky suggests. "A haircut at a training school is going to take longer because the hairdressers are students, they're learning, they haven't been in a salon environment for years. And the consultation takes time as well. If you're coming in for a haircut and need to be done in an hour and a half, talk to the student and maybe you can compromise. Instead of doing a great blowout at the end, just rough-dry and see if you like the cut so you can get out of there quicker. There are little things you can do to cut time during the service, and being upfront with that is better than saying, 'Hey, I gotta get out of here in 10 minutes.'"
If you're halfway through your cut and starting to get worried, speak up!
"The first thing to do is just to ask: 'We talked about taking two inches off and it looks like it might be a little more than that — can we revisit the pictures?' If the communication still isn't there, that would be a time to call an instructor over," she suggests. "You should always speak up if it's going the wrong way."
If your haircut is over and you're not happy, you should still speak up — there's probably a way to fix it.
"If you're unhappy at the end, do the same thing — just talk about the things you're not liking. It could be just simply how it's styled, or it could be a texture issue. The educator can come over and show the student a few different styling tips and tricks that can make it into what you wanted."
It's more than OK to ask to speak with an instructor.
"As long as you're being nice, as long as you're saying, 'Hey, let's grab your educator and we can figure it out,' that's fine. Oftentimes the student will be like, 'You're right — let's have the educator come over.' It comes back to being polite and nice and understanding that it is a learning environment. The students do great work, and the tradeoff is that you're getting a great service for a great price."
Want to give it a shot but still a little cautious? Test the waters with a less-permanent treatment.
"If you've never gone to a school to get any services done, start out with a blow-dry, because you really can't go wrong with it," Leshovsky suggests. "Or go get a facial at a great price, and experience it that way, where it's kind of a foolproof way to get something done."