Following a Dream: Part II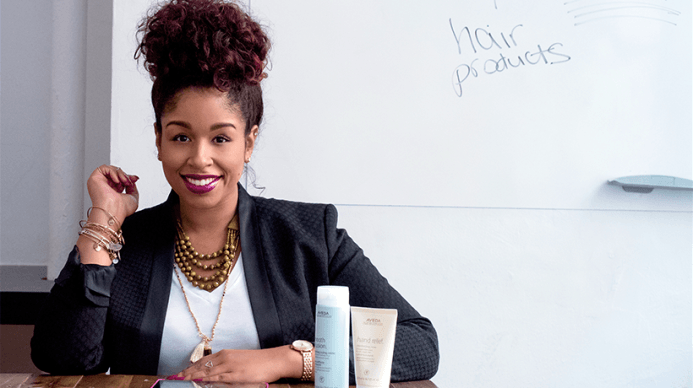 It's been four months since our Aveda Ambassador Monica Stevens —beauty blogger for her popular blog Mo Knows Hair— enrolled as a student at the Aveda Institute New York (AINY), as part of her partnership with Aveda.
Today we're checking in with Monica to hear about her experience so far.
Living Aveda: You've been attending the Aveda Institute in New York City for a few months now; what have you learned so far?
Monica Stevens: For the introductory part of the program, we've learned a lot about the structure of hair, the science behind Aveda hair products, the anatomy of the body, and skin and scalp conditions. It has been a really cool experience so far and I'm shocked at how much we are doing in such a short period of time.
LA: What has been your favorite part?
MS: The haircutting classes and curriculum. I love how Ricardo Dinis', Aveda Global Artistic Director for Hair Cutting, techniques teach me how to be more organized about cutting. We learn cuts in an efficient and precise way.We've done lots of haircuts for men and women, using clippers, shapers, thinning shears, and more. The students have done each other's hair and we've had model days. That is how we are tested on whether or not we understand the concept of the haircut. We have the opportunity to do a full service, from beginning to end, including consultation, wash, set, and cut. I've been learning a lot!
LA: Do you feel like you've adjusted to being a resident of NYC? Where do you find inspiration in the city?
MS: Adjusting is still a process. I've visited NYC many times before moving here, but being here full-time is quite the change. After talking with others like myself who have moved from another part of the country, I am hearing that it takes about a full year to feel comfortable.
I have taken time to visit The Metropolitan Museum of Art and I love discovering the different exhibits there. It makes me look forward to exploring more in the city and discovering other places to find inspiration….when it gets warmer, of course.
Do you love fashion, beauty, wellness and art? Studying at the Aveda Institute may be for you. Find out more about our schools and becoming a student by visiting Aveda Education today.
And be sure to try a few of Monica's Aveda favorites that help her deal with the New York City winter:
Posted to Living Aveda blog on