Work the Wheel for Guest Retention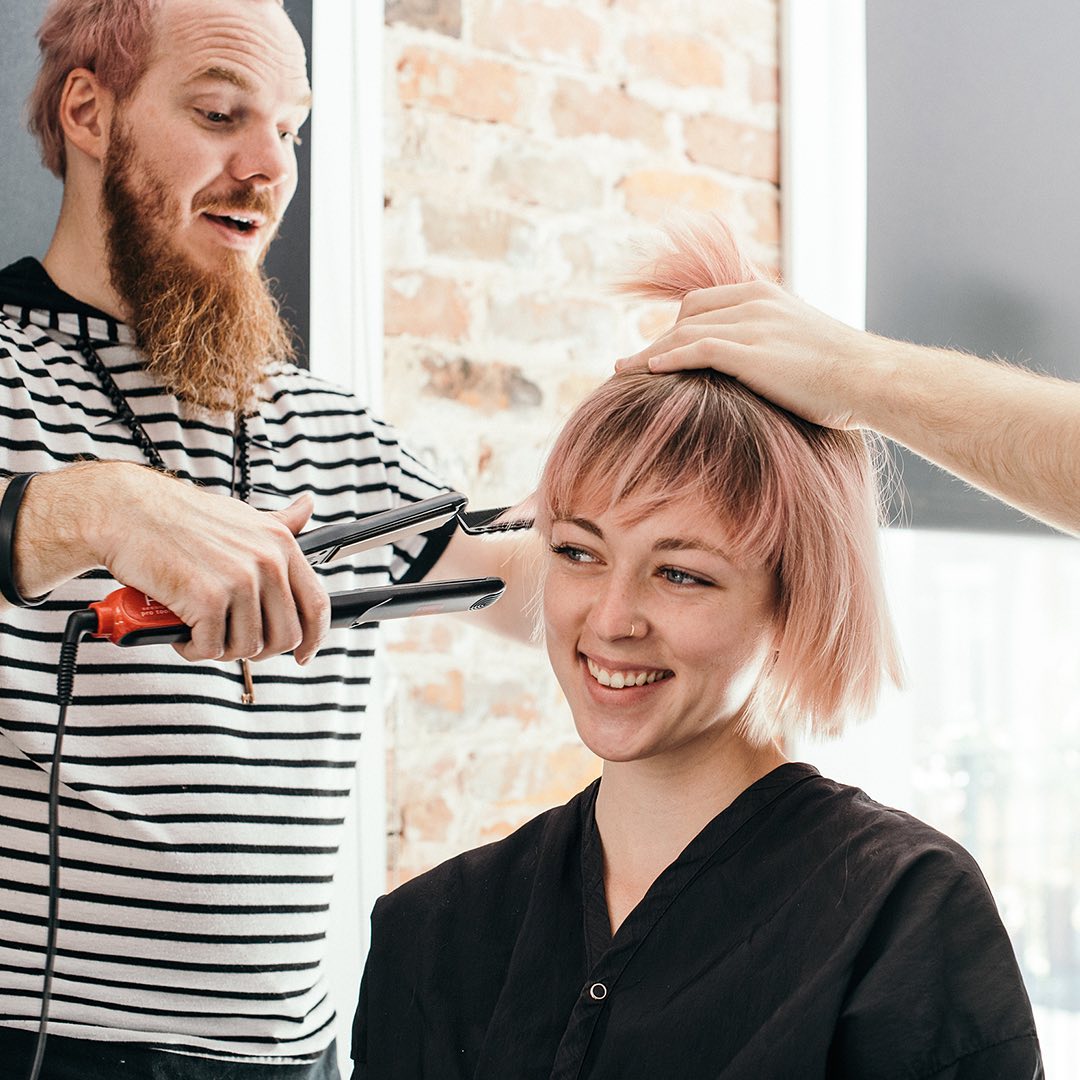 As a new or aspiring stylist, one of your most effective tools in retaining guests is learning Aveda's service wheel. From the moment your guest walks through the door to checkout, the service wheel provides guidance on the retail and service conversation.
"The service wheel prompts you to ask all the questions you may forget during a consultation," says Todd Faulk, educator at Aveda Institute Dallas. "It guides you to talk specifically about the guest's features you want to enhance with products (hair, scalp, skin, etc.) instead of saying you want to change something."
Annie Patton, master stylist at Tangerine Salon in Dallas, says "The Aveda service wheel delivers a balanced service to the guest through aroma and touch. It includes warm greetings, calming aromas, a thorough consultation, solutions for the guest's hair needs, and finally, the information the guest needs to maintain their look at home."
We asked Todd and Annie for the inside scoop on why it's important for stylists to work the wheel to keep their books full and guests happy.
View this post on Instagram
Q: How can learning the service wheel help stylists build their books back up?
Todd: We know that learning and abiding by the service wheel is not just for beauty-school students. Many stylists would like to be busier, so going back to service-wheel basics and asking clients specifically how they style their hair, what products they use, and what changes they'd like to see has been very helpful in retaining the clients they have.
Once we have that information, we can go further and educate guests on the products they need to use, show them styling tips with a round brush or curling iron, and teach them how to recreate that style at home.
Annie: Consistency is key. Adhering to the service wheel provides a road map for success and expectations. As a new stylist, it can be intimidating to have a wide variety of clientele. The service wheel gives a sense of confidence to the stylist, which allows the guest to feel more relaxed and welcomed.
View this post on Instagram
Q: What does the service wheel do to enhance the guest experience?
Annie: It leaves a lasting impression and increases their desire to return. The service wheel is part of Aveda's signature, therefore, it's most likely an expectation for the guest.
Todd: Think about if you went to someone's house for a party and they told you to "just come in." It's an awkward feeling, right? But if someone walks you in … introduces you to a couple of people … and makes sure you're happy and settled before walking away, you feel more relaxed. That's the difference the warm greeting in the service wheel makes to a guest. Offering them a beverage, walking them back to your chair—it's the first step in making the guest feel comfortable with you.
And when you continue to follow the service wheel throughout the whole service, it gives the guest a sense of security, and the stylist a level of confidence. Guests feel seen and heard, and stylists feel confident in offering add-on services after asking questions during the consultation. Until someone asks them the right questions, many guests may not even know these add-on services exist or why they might want them.
Q: How can stylists stay consistent with the service wheel?
Todd: I think stylists fall away from the service wheel when they get away from beauty school and in a mindset of just doing hair and focusing on the next appointment. To stay true to the wheel, sometimes you need to go back to basics—especially if you're trying to build your books. Using the tools on the service wheel with the motto every guest, every time will get you there.
Annie: Every step is important. Think of the service wheel as a pyramid. The top of the pyramid is the highest, translating to be the highest level of service. Now, within a pyramid are other triangles, to give a strong foundation, and as you stack each triangle you get higher and higher. If a part of the service wheel is not executed well or at all, you're not able to provide the highest level of service to the guest. The structure can even collapse. Aveda, as well as Tangerine, is known for top-notch service because we strive to be at the top of the pyramid every day.
View this post on Instagram
Q: What advice do you offer new stylists as they start to build their careers?
Todd: Ask for referrals—even on social media! The service wheel contains good business-building habits and a social media presence is one of them. Get in the habit of giving your guests your social media handles so they can follow your work.
And follow the service wheel every day. It gives you a clear expectation of what the guest is looking for—it's like a recipe with all the ingredients. The wheel provides a clear understanding of guest expectations and sets you up for success.
Annie: Use the service wheel! It provides expectations for our guests and the stylists. The routine and rituals provide comfort and familiarity. For the stylist, it's almost like muscle memory. It adds value to their appointments without actually having to provide additional services and will set you apart from other stylists in your area. It also gives stylists confidence to value their craft with every guest, every time.