When Hair Stylists Are So Much More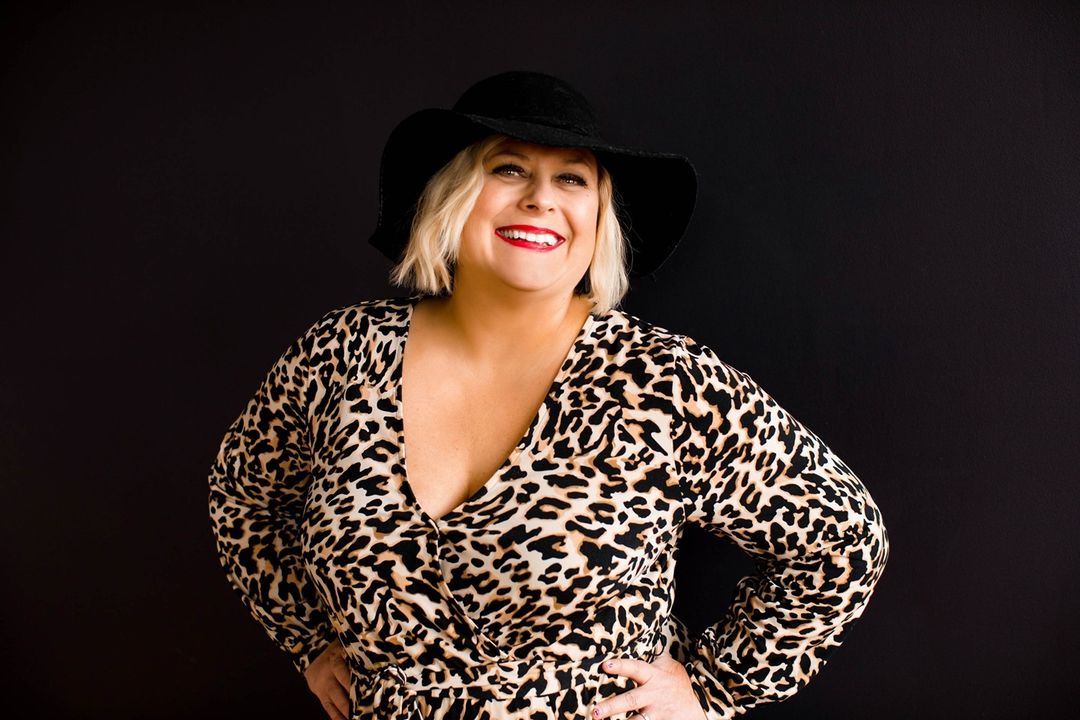 There are so many reasons to become a hair stylist. The desire to express yourself creatively, make people look and feel their best, and fuel your interest in beauty and fashion come to mind. It's usually not until stylists have begun their career that they realize there can be so much more. 
Aveda artists often find themselves helping patients enduring a difficult health or life journey—sometimes even alerting them to a medical problem early on. 
We talked to two veteran Aveda Artists whose prolific careers have been enhanced by their ability to help guests in ways that go beyond beauty. Harry Wood IV is an author, coach and educator at Van Michael Salon in Atlanta, and Tricia Rivas is the owner of Trixies Salon and Spa in Des Moines.
Along with two partners, Wood founded Back to You, now in 23 states and growing. Back to You trains stylists to use their professional expertise to help people with medically related hair loss. 
Tricia is the founder of the non-profit Dream Catchers Foundation, which provides pro bono salon and spa services to men, women and children in need. 
Here are their stories about how their calling as a stylist gave them the unique ability to help ease personal burdens for others. 
How can stylists help people who may be ill or going through crisis?
Tricia: We are up close and personal every day with the guest's scalp. There are times where they have skin cancer or an infected hair follicle or a mole that has changed in appearance. When we notice something is wrong or doesn't seem right, we provide advice that they should get it looked at. 
In working with nonprofits and hospice, we had many hours of training on protocols, cancer treatments, and how to provide hair services to someone in hospice. 
Harry: As a stylist for 30 years, it is not IF but WHEN someone will tell you they won't be back for a while because they have cancer and will lose their hair. Our training with Back to You gives stylists the education to become Certified Alternative Hair Providers. After our training and with our resources, a stylist can answer that guest with, "I can help you."
During Back to You's eight-hour certification class, stylists learn how to determine the alternative hair fiber (synthetic, heat-defiant synthetic, or human hair) and proper cap construction or topper design; how to measure to ensure the perfect fit; and how to cut and style wigs and toppers. When they are ready and able to assist in their client's transition before, during, and after hair loss, they never miss a beat by providing exceptional service in a salon environment.   
Can you tell us about a time where you used these skills to help a client?
Harry: There are many stories. Here is just one that expresses why we do what we do. This is a picture of a girl named Faith who was diagnosed with Hodgkin's Lymphoma.  
When we first spoke with her mother, Faith's hair had fallen out. She had locked herself in her bedroom closet, crying, for two days. After coaxing her out and getting her fitted with a new human hair wig, she was ready to go out and see her friends. The text and picture we got back from Faith's mother says it all: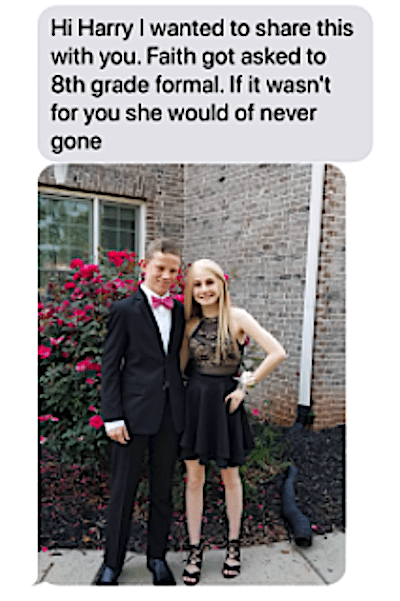 There is evidence to show that providing a supportive, social environment which treats a patient as a "whole" person outside the traditional medical setting has a significant positive impact on their recovery. 
What are ways you can help clients struggling with hair health and loss?
Tricia: One of the detrimental side effects of Covid-19 is hair loss. For our guests that have had hair loss, we recommend our Aveda Invati line. That helps with hair thickness and stimulation of hair growth. You should massage the scalp—that type of training comes from working with hospice and cancer patients. 
Thyroid problems also manifest through hair loss. There are times that guests have had a lot of hair loss and we can ask them if they've had their thyroid checked. We do not diagnose. We can say, "This is what I've noticed, this is what I've read about and heard in training and seminars, and I recommend you reach out to your doctor." I have had so many clients who have thanked me after getting their thyroid checked because their hair loss was a sign that their thyroid was low.
My eldest son, who is 28 years old, has alopecia. It always seems to be stress related. Again, I always recommend the Invati line—I have seen the results and what that product does for our guests.
Harry: Today we have more to offer our clients than when I first entered into the industry. Products such as Nutrafol, and scalp treatments like Botanical Repair and Invati that encourage new growth, were not available when I started.
Many of my clients suffer from thinning hair. We provide VoMor hair extensions for those that need and want thicker hair on the sides and back. This is the entry level to alternative hair. As a person's hair thins on top the next step is to provide toppers and wigs—which is where Back to You comes in.
When you first started, did you realize that beauty professionals have special skills that go beyond hair? 
Tricia: No! Not at all. I wish I would have known that. There is so much training in this area, and it came after I was in a salon. 
Harry: This was not addressed for me when I was in school or in training. But it should be talked about. There is no shortage of people going through cancer and need our help and services. 
That is why I co-wrote Oncology Basics: The Bridge Between Beauty and Medicine, on how to help with hair loss and hair regrowth after chemotherapy. It is my goal to make knowing how to take care of people with cancer a global standard for the hairdressing profession around the world. 
What are some other ways beauty professionals can help someone going through intense or difficult situations? 
Tricia: We team up with another non-profit where we are a safe place for victims of domestic violence. There are pamphlets around the salon— if you are in a domestic abuse or sex trafficking situation, we can do the reporting for you. Here locally, we work with Dorothy's House, providing haircuts to women that are recovering from sex trafficking. 
As hairdressers, we are psychologists, we just don't have the initials. We do a little bit of everything because we have that personal relationship with people. We know and notice things that other people do not—after years of education and taking care of that person that is in our chair.
One of our quotes at the salon is, "We truly feel like hairdressers can change the world." I believe that in my heart and soul. We are evolving constantly. 
Learn about all the rewards of being an Aveda Artist. Get more info about attending the Aveda Institute here.