Parenthood and Cosmetology School: A Balancing Act
Moms and dads do it all—from packing lunches to encouraging their kids to chase their dreams. Parenting can be pretty inspiring … but what if your own dreams have taken a backseat?
Aveda graduates Rashea Gill, Dominique Finney, and Laura Tamez are here to tell you that your dream career is never out of reach. Their advice on managing parenthood and cosmetology school reminds us that anything is possible … with a little planning.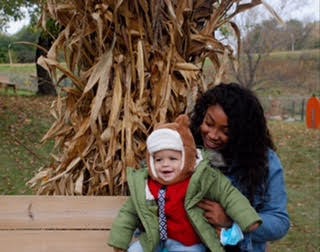 What inspired your start in the beauty industry?
Rashea: I've had a passion for this industry since I was a little girl. The industry runs in the family—my mother, grandmother and great-grandmother were all stylists. My mother owned a salon so I was always there watching her transform people's lives. I began working in retail and one day I told my husband that I wanted to chase my dreams. I promptly resigned, made an appointment with the school, and never looked back.
Dominique: I started working in a corporate office right out of high school. I was always excited about makeup—I loved providing services for weddings, birthdays, and other big events. It pushed me to think about enrolling at Aveda.
How did you decide to enroll in the Aveda Institute?
Laura: I started by researching the beauty schools in my area. First impressions are crucial—and Aveda's website, brand, and mission were so powerful that I knew it was the place I was meant to be.
What was a typical day like for you as an Aveda student and parent?
L: A typical day as a mother started with a 6:00 a.m. alarm. I would spend my mornings getting myself and the kids ready for school, making lunches and to-go coffees, dropping the kids off at school, and then driving to Aveda. My days at Aveda were dedicated to learning and practicing my craft. After promptly clocking out at 5:45, I would spend the evening prepping dinner, doing (and checking) homework for myself and the kids, studying, and finally decompressing.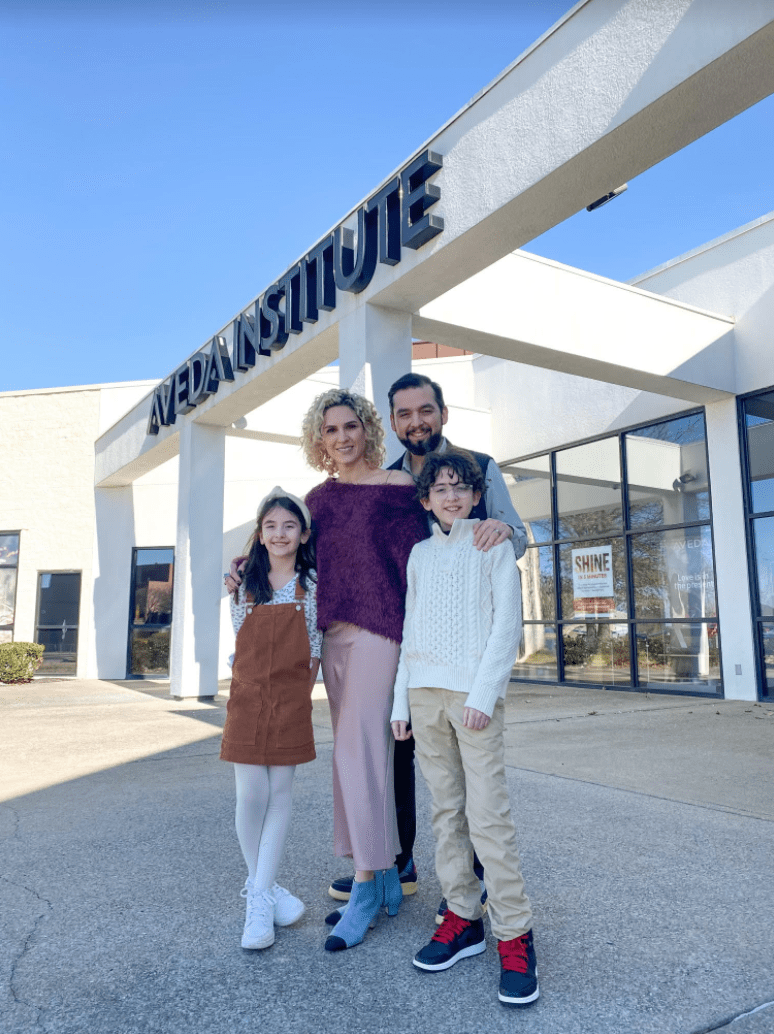 What were the challenges of juggling parenthood and courses?
R: It was an adjustment to find the balance between school and parenting. I struggled finishing the school day and trying to find the energy left to parent. We all had to change our routines so I could achieve my goals—so I missed the little moments like morning breakfast.
L: Trying to leave the house on-time and prepared was hard! It was essential to plan ahead—and communicating with my family was key. 
In what ways did the Aveda Institute support you? How did you achieve a family/school balance?
R: I remember the first time I had to leave class early because my kid had fallen ill. Aveda immediately helped me figure out how to make up the lost hours—they were so supportive. That evening, the instructor even emailed me notes complete with an encouraging message. I could tell the staff sincerely cared.
L: One of the first things they encourage us to do is communicate. Everyone is very compassionate and understanding when it comes to real struggles, family and health situations. Everyone knew I was a mom—and the one day I needed to step outside and virtually attend my daughter's first ice skating performance over Facetime, everyone understood. 
What are your career goals? How did being a parent affect your decisions for the future?
L: I want to continue advancing in every way possible. I would love to explore the editorial route and perhaps focus on textured hair. So far, with the priceless support of my family, our team effort, and my determination, I don't believe there will be anything that would prevent me from reaching my goals. I am a mom—and moms get things done!
R: I tell my kids all the time to follow their dreams and to not be afraid. They were able to experience this first-hand—they lived it with me.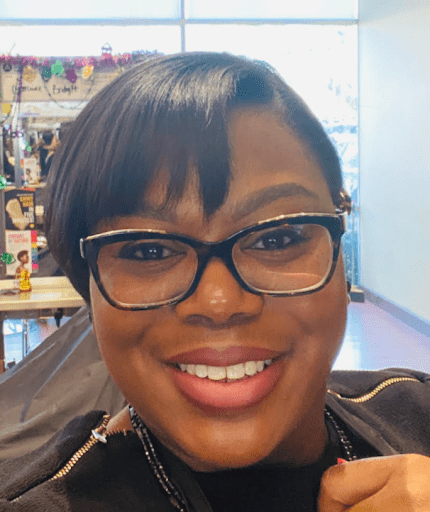 What is the biggest takeaway from your time at the Aveda Institute?
R: You can learn so much in a year! The educators made us feel that anything was possible. It may take effort and planning—but you can do anything you set your mind to.
L: As long as you put intention and love into what you do and you consciously surround yourself with positive people who strive for the same goals, nothing – not even your fear – will stop you.
D: Open yourself up to multiple ways of doing things. Every instructor has a different method—and that's great, because you can learn what's best for you.
What advice would you give to parents considering enrolling in cosmetology school?
R: Start with a plan and everything will fall into place. You have the support that you need and they will be there for you every step of the way. Have fun—cosmetology school will be a blast! Most of all, live in the moment.
L: If you are a parent and you are reading this thinking that you already have too much on your plate (believe me, I understand), answer this question: What if this is "it"? What if this is what you were meant to do? What if this is the outlet you need? What if your kids learn through example the values of adaptability and determination? What if for once you can make a living doing what you love?
Make the leap. Say yes. Trust your gut. Move and try new things and rediscover yourself and explore possibilities that you never imagined before. You only regret what you haven't attempted to do.
Ready to start your journey as an Aveda Institute cosmetology student? Contact an Admissions Advisor about the best fit for you here.