"Don't Give Up!" How Aveda Institute Students Overcame Big Challenges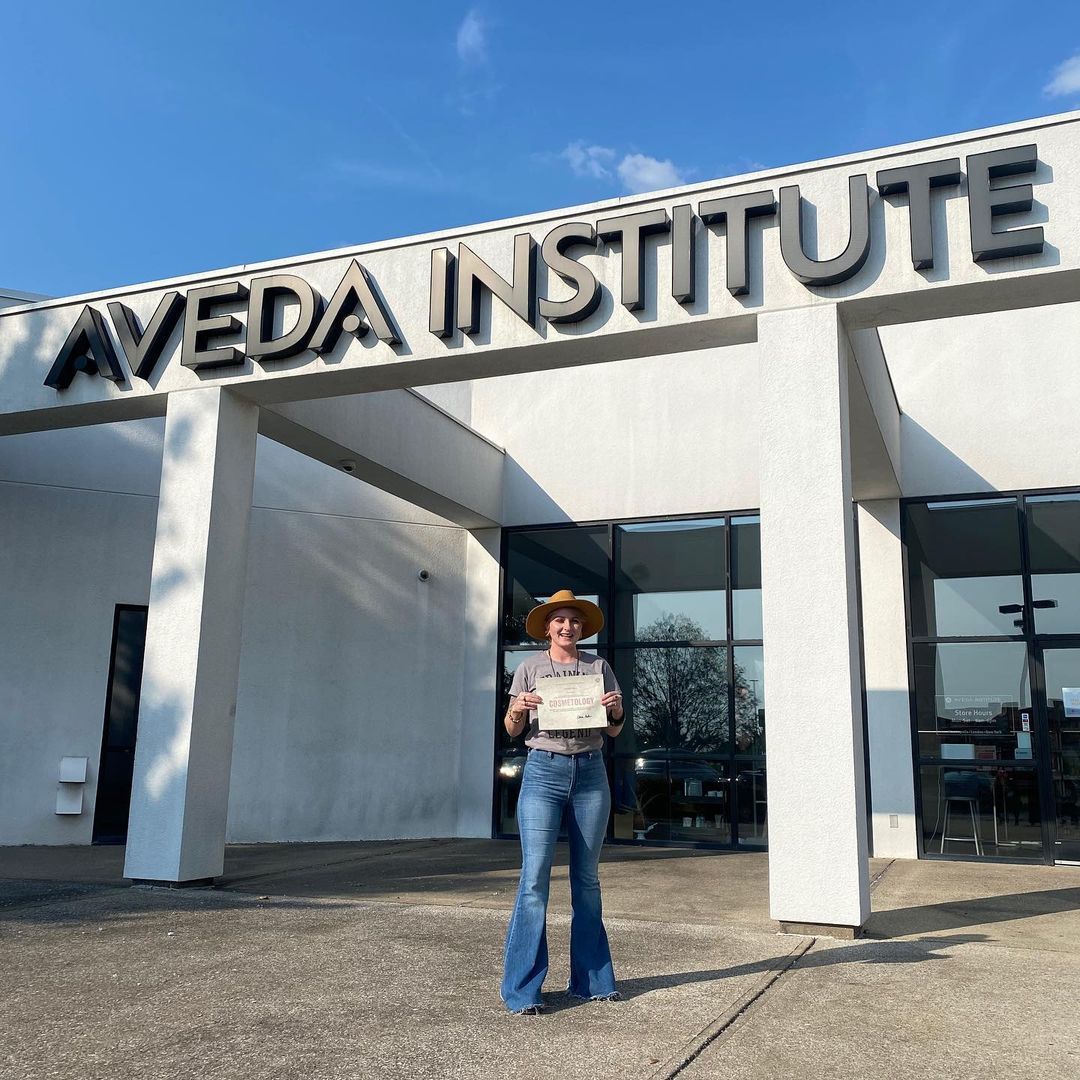 Cosmetology school is never easy, even under the best circumstances. Throw in a few more challenges—such as being an older student, or a parent—and it can get downright uncomfortable. Now add a HUGE monkey wrench like a pandemic shutdown, with a sudden change to virtual learning at home.
If all that sounds impossible to overcome—we're here to tell you it's not. 
During the COVID shutdown in 2020, thousands of Aveda Institute students all over the U.S. had to pivot to virtual learning. We talked to two non-traditional students who were already overcoming obstacles to graduation by the time the shutdown happened. They got through it, and are here to tell you that no matter what comes up during your cosmetology school journey, you can too. 
Meet Emmily Shell and Jordan Hess. With their own determination and drive, and supported by their Aveda Institute family, they're now successful Aveda Artists enjoying the careers they worked so hard to achieve.
What led you to cosmetology school?
JORDAN: I have always colored my own hair and helped my family with theirs. I thought, "I should get paid for this." At the time, I lived in Washington state. There wasn't an Aveda Institute there and I knew I wanted to go to an Aveda Institute. My sister attended the esthetics program and loved it! She told me it would be perfect for me. 
As luck would have it, there was a school in Franklin, TN where my in-laws live. They offered their home to us while I attended school. 
EMMILY: I always had a passion for doing hair, but didn't start school until I was 29. I spent several years working odd jobs. I eventually got to a point where I wanted to do something fulfilling and purposeful. I was going back to my passions.
View this post on Instagram
Emmily Shell, stylist at Local Honey Salon in Nashville, TN
What was your experience like at the Aveda Institute?
JORDAN: I loved my educators and my school. I felt well educated and valued. I appreciated how much passion for the industry every educator had. 
EMMILY: It was very structured. I really appreciate all my educators because they were kind and welcoming and they guided me through everything. 
How did it prepare you for your career today? 
EMMILY: After I graduated, I chose to go to an education salon. It felt comfortable and familiar to have a similar experience to what I had in school.
JORDAN: Honest to goodness If I say the word "Aveda" people in the industry perk up and are curious. They know how valuable we are. Aveda taught me professionalism and standards. One of my favorite quotes is from my educator, Evon Taylor: "Stay ready and you will never have to get ready." That has been my mantra. 
Numerous times I have been asked if I was or had been an Aveda student. When I say yes the response is always, "I knew it. You have that drive in you." Or that fire or professionalism. Or they simply say they can just tell by the way I carry myself.
View this post on Instagram
Jordan Hess, associate at Salon Blonde in Spring Hill, TN
What was the biggest challenge you encountered during cosmetology school?
EMMILY: It was definitely switching to virtual learning when COVID hit. We didn't have a lot of time to prepare. When we went virtual, a lot of my friends decided to take a leave of absence. I felt pressured to do the same thing. I didn't, and I saw it through and I'm really glad I didn't.
JORDAN: Definitely COVID. I have 4 kids, and when the shutdown happened I had to attend remotely, the same as my children. At one point it became too difficult and I had to take leave. A week or so before my contract was scheduled for termination, my director contacted me. She reminded me how much I loved it and encouraged me to make it work. It brought me back to campus. I am so grateful to Connie for that. 
How did you overcome it?
JORDAN: Aveda's educators never gave up on me. They pushed me when it was hard. That distance from school made graduation that much sweeter; that much more emotional.
EMMILY: It was so difficult. You're going to school in your house where there are so many distractions. I would wake up and physically get ready as if I were going to school and do my hair and makeup and put on the right clothes to stick to the routine. 
It set us back, but that turned out to be a positive. When we were able to return to campus, it was when we were originally scheduled to go onto the floor. But, they put us back into the classroom for several weeks because we hadn't had much technical training at that point. It was frustrating but in the end, it helped me feel so much more confident in my technical skills.
How did that challenge prepare you for your current career?
EMMILY: It definitely gave me more drive. It showed me that if I could get through that, I can deal with bad days or stressful situations. The fact that I didn't take a leave of absence gave me a sense of discipline and pride that I carried with me into my career now.
JORDAN: I now know that no matter what, I can overcome. I graduated! I passed state board and I am licensed! That is no small task and it's not just my desire that got me there. I love my school. I am a proud Aveda Alumni. We are the standard. 
View this post on Instagram
Distance learning, Aveda Institute style! Instructor Todd Faulk teaching from his home during COVID.
What resources were provided to you by the Aveda Institute that helped you succeed?
JORDAN: Countless videos, templates and e-learning opportunities such as Learn Aveda and Aveda PurePro, which let me go back and review. Numerous quizzes and mock exams. They laid everything out for us. 
EMMILY: The kits and iPads helped with our virtual learning. They helped us with job placement to find the right salon for us. They were always willing to give recommendations and really set us up for our careers.
What are you most proud of during your time at the Aveda Institute?
JORDAN: I am most proud of the way Aveda opened my heart to people. I'm naturally introverted but Aveda taught me I can be personable and inviting even as myself. 
EMMILY: I am proud of having succeeded through a whole year during the pandemic, and I'm proud of my self-growth. As a 30-year-old in the classroom, I was completely intimidated by the younger students. I thought I was too old to be doing this. By the end of the year, I knew that this is who I am and I'm proud.
What advice would you give to students feeling challenged in cosmetology school? 
JORDAN: Don't give up. Listen to your educators. Do the work. "Proper practice prevents poor performance." Another statement always made by Evon! He's right. They give you all the tools; all you have to do is use them. Lastly, don't expect perfection—but progress. 
EMMILY: Don't give up. Being the older person in the classroom, I was super intimidated. I felt out of place. I had moved to a new city and was trying to make friends, navigate classes, maintain a social life outside of school and stay focused. 
At the end of the day, it was all worth it. There were times when I felt frustrated or discouraged and I don't see them anymore. I completed my hours, gained my graduation certificate. It was the best feeling.
Intimidated by the prospect of attending cosmetology, esthiology, barbering or massage school? Talk to an Aveda Institute Admissions Counselor and get all your questions answered. Find your preferred location here.