A Career You Dream About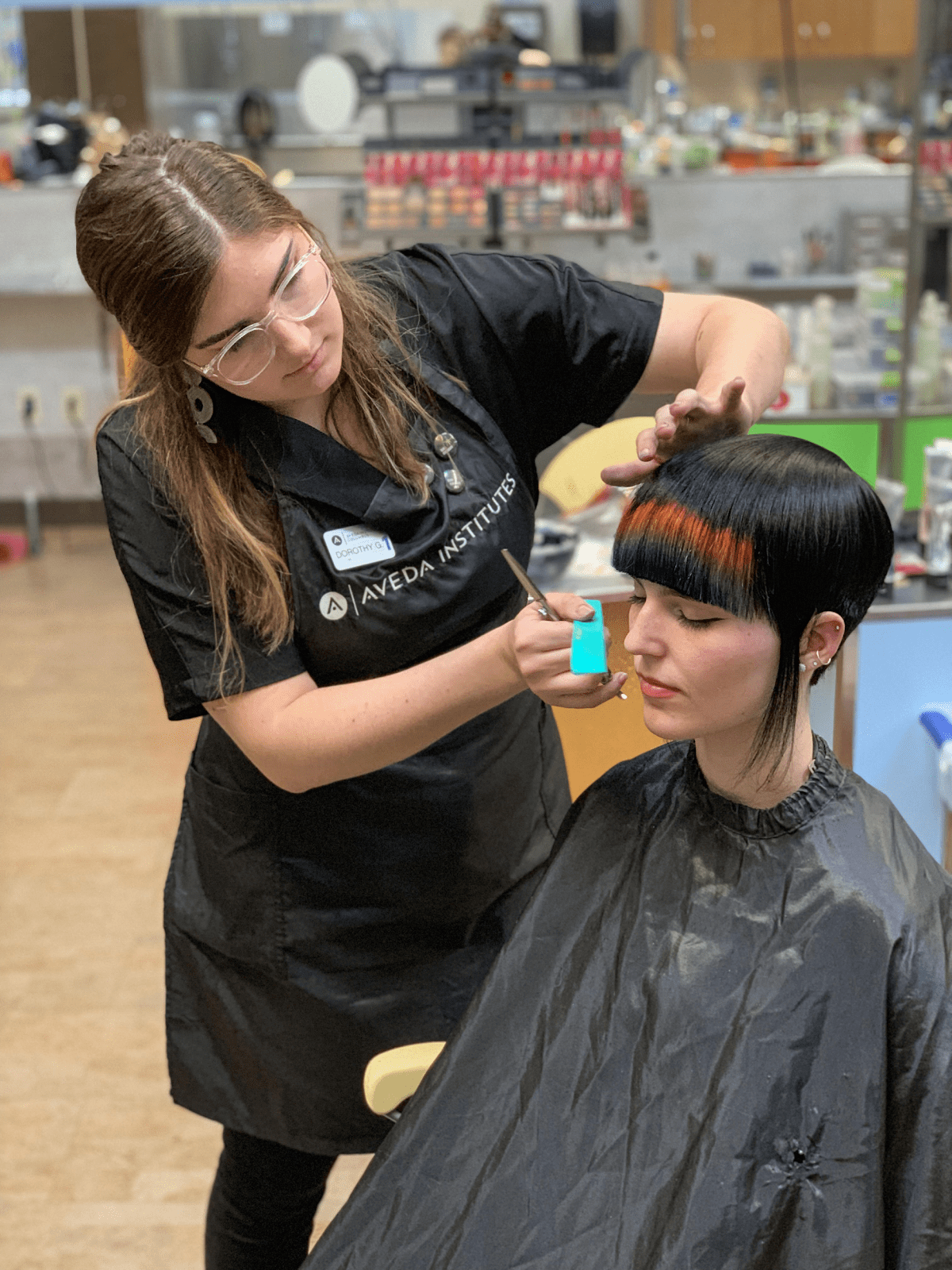 Do you wake up dreaming about a creative career that combines technical skills with a passion for helping others? Welcome to a day in the life of Dottie Greene. We got Dottie to spill the herbal tea on the life of an Aveda Institute student and trust us—it's piping hot. Read on to find out how the Aveda Institute can help you turn your biggest dreams into reality.
What was a typical day like at the Aveda Institute when you were in school?
My days were busy at the Aveda Institute! For the first 10 weeks, we were in the classroom three days a week learning the fundamentals. From there, we graduated to performing basic hair and nail services on clients, while taking more advanced classes one day a week. Following our advanced classes, we chose electives, such as a Gel Nail Certification, Advanced Men's Haircuts, Advanced Styling, Editorial, and more. Our typical day spanned from 9 am to 8 pm and was full of classroom activities, mannequin practice, and client services—with breaks, of course!
What did your courses cover and what were they like? 
Our courses were very in-depth. Aside from studying hair design, styling and coloring, we also covered everything from chemistry and the anatomy of hair to ergonomics and finances.
What sections did you most enjoy learning?
It was fascinating to learn about what makes each hair type unique. Understanding the physiology of different hair textures is the first step to helping the client achieve their dream hair.
What was your favorite part of the course and why? 
My favorite part of the course was seeing myself gain confidence behind the chair. As I grew more comfortable, I started taking what I learned and expanding on it to reach a wider client base.  I loved the challenge of doing new and creative things, and my educators were always encouraging when I practiced technically difficult techniques.
What was the most challenging part of the course for you, and why? 
I have never been particularly science-minded, and so I really had to push myself during the anatomy courses. In the end, it was incredibly rewarding and I'm glad that I have the knowledge necessary for a successful career.
What help or support did you receive to overcome the areas you struggled with?
My educators were always very supportive anytime I had questions or needed help with a concept. Aveda really wants to help you succeed, and it shows. 
Did you receive any business training? If so, what did you learn?
Yes—we covered a wide range of business-related topics, covering everything from the interview process to salon ownership. We even crafted our resumes in class and discussed different career paths to map out our goals.
What parts of the course do you think prepared you the most for your career? 
The hands-on learning technique really prepared me to start my career at a salon. Our in-depth education allowed me to feel confident graduating as a beauty professional. 
Did you participate in any creative projects (like photoshoots or fashion shows)? If so—what? If not—what did you do creatively while attending the Aveda Institute?
I took part in every creative project I possibly could while I was in school. I loved being a part of our yearly Earth Jam Fashion Show, entering into the Edwin Neill Contest, working with Nurtūr Salon during Columbus Fashion Week, and participating in the CCAD Senior Photoshoot and Fashion Show. The highlight of my schooling and career so far was when I was chosen as my school's representative to enter the North American Hairstyling Awards into the Student Hairstylist of the Year category. I created a collection, shot it with Keith Bryce, was nominated as a finalist, and ended up winning! I went home from the award show in California as the NAHA 2020 Student Hairstylist of the Year. I will never forget how amazing it was to be surrounded by the people who inspired me to become a cosmetologist, and I really felt like my hard work was all worth it. 
What are your career goals? How do you think Aveda Institute or being part of the Aveda Network is helping you achieve them?
When I started school I realized there are so many different paths you can take in this career. As I've progressed, I've come to realize I love the creative aspect of this job more than anything. One day I would like to be an artistic director. While I don't know how to get there yet, my experience at the Aveda Institute taught me that I can do anything I set my mind to. My educators were always encouraging me to network and they helped me take the first steps in my career. I know that even though I am no longer in school, I always have an Aveda family that I can lean on. 

Ready to start the career of your dreams? Contact an Admissions Advisor about the best fit for you here.