7 Tips To Rise Through The Ranks As A Makeup Artist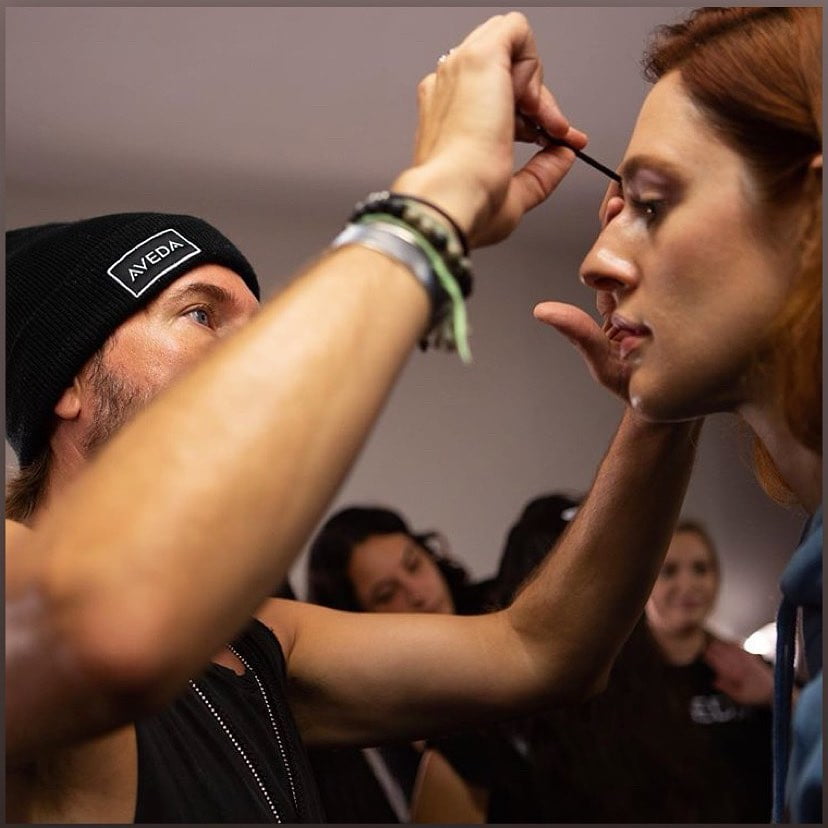 Calling all makeup artists! Put down the eyeshadow brush and pick up a pen, because you don't want to miss these tips on how to take your career to the next level. To find out how to grow as a makeup artist, we went straight to the top. 
Meet Brad Van Dyke: Aveda North America Artistic Team Spa Director, Inspire Greatness Institutes Education Director, and owner of Three Cutters Salon & Spa in Denver, CO; and Sam Watson: NAHA 2021 Makeup Artist of the Year Finalist. 
Turn heads with their tips for success:
1. Learn the rules before you break the rules.
Brad: Early on in my career, I did not understand the building blocks of makeup theory—and without those foundations, it is difficult to create a beautifully inspired look. You have to embrace the rules. I had mentors like Rudy Miles and Janell Geason who really helped me understand the basics of building on texture and color theory … and that's when I felt that my looks became art.
View this post on Instagram
2. Know your brands, and know what works for you. 
B: I've worked with many brands, and Aveda makeup photographs the most beautifully. There's just something about the sheer complexion that Aveda creates. That is important to know, especially when creating my favorite looks—which are anything that I have complete control over. I usually get to do these looks once or twice a year for a content entry or my own portfolio. In other arenas, I still have professional input as photographers and designers will always ask your opinion—but it is more dictation of what they want and less creative freedom.
View this post on Instagram
3. Network, network, network!
B: It's important to find a mentor and see how editorial artists work by assisting. Learn best practices as you work behind the scenes. Recognize that it is about the hustle. As artists, the public only sees about 10% of what we do … and success is achieved by building a clientele.
Sam: Stay connected with your Aveda network. Go to Jams when given the chance. Reach out to local makeup artists you admire and ask if you can assist. If it's a good fit, they may send you opportunities that they aren't able to commit to.
Figure out what you love to do and find a way to fund it. It takes time to develop relationships with magazines or photographers. Build your group of people that have a similar goal and work toward your dream together. 
4. Practice getting up close and personal.
S: Get comfortable performing services on other people. As a makeup artist, you are in your client's personal space, so developing a gentle touch and courteous mentality will allow you more opportunities to work with the model or their friends. Develop your confidence while staying humble.
B: Social media is huge—that's where I get a lot of my inspiration, especially for my own personal work. Put time into your craft and practice continuously—whether it be on friends, family or yourself.
5. Take chances! Mistakes can be erased.
Sam: I love expressing my art in a way that is very flexible. If I don't like it or it doesn't align with the objective, you can remove it and start over.
B: And, to be honest, makeup can be easily wiped away if it's not to anyone's liking.
6. Be confident … but also be your own harshest critic.
S: Social media is great, and I utilize it in many ways—such as looking for inspiration or learning a new technique. However, on a global platform, you are competing against the best makeup artists in the world for the perfect cat eye or the best bold lip. That can be hard if you know that you always have room to improve. After every shoot or bridal look, I ask myself, "What could I have done better?"
View this post on Instagram
7. Most importantly, stay true to your work.
B: Makeup is a beautiful way to express what we do in this industry. Many times it is to highlight someone else's work, but it still plays a crucial role in many aspects of our industry like photography, fashion design and hair design. Many of those individuals need a makeup artist—and you have to build your aesthetic around that. My goal is that even when I play a supporting role, people can still say, "That's Brad's makeup."
Ready to start your journey at an Aveda Institute? Find out more here.