5 Reasons You Should Choose Aveda Institute As Your Beauty School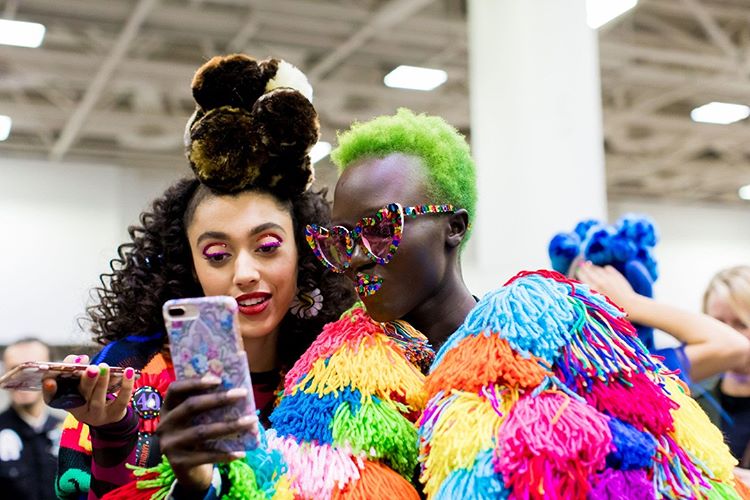 There are so many options for your beauty education, it can be overwhelming! While cosmetology schools offer a broad variety of educational experiences, we are confident that the best and most thorough preparation for the world of high-end beauty comes at an Aveda Institute.
Here are our top five reasons why attending an Aveda Institute is the smartest way to start your career in beauty!
1. Be Part Of The Aveda Global Network (And Reap The Rewards)
Graduating from cosmetology school is exciting, but can also be terrifying. In one day, you go from a structured learning environment with support, direction and guidance to … being out on your own.
Aveda Institute students never know this specific anxiety. They graduate into a global network of high-end salons and spas, plus educational offerings at all levels that provide a foundation for amazing career development.
From landing an entry-level interview at a premier salon, to becoming an Aveda Purefessional or New York Fashion Week stylist—being part of the Aveda network opens doors all over the world.
2. Learn The Business Of Being A High-End Beauty Professional
Aveda Institutes teach you everything you need to pass the state cosmetology licensing exam—but that's just the beginning. Aveda Institute trains you to thrive in the world of upscale beauty. You learn the many details and elements that separate a run-of-the-mill service from a luxury salon or spa experience.
Then there's the business education. While many beauty professionals have an excellent grasp of cutting, coloring or giving facials, they haven't been taught necessary business skills such as: marketing themselves, growing their clientele, managing finances, maximizing a commission-based paycheck, or moving up the promotional ladder.
Because of this well-rounded education, Aveda Institute students launch their careers equipped with the real-world know-how to grow themselves and their careers into everything they dreamed.
3. Career Support From Day One
During your time at the Aveda Institute, you'll be exposed to a wealth of job prospects such as career fairs, salon and spa tours and school visits by top beauty employers around the region. You get an idea of what's waiting out there for you in the job market, and even better—how to get hired by the employer of your choice.
Aveda Institutes regularly host influencers in the beauty industry including platform artists, celebrity and runway stylists, and Aveda Global Artists. Students get the chance to meet, talk with and learn from the industry's top leaders.
As a student, you have multiple chances to participate in creative events such as fashion shows, hair competitions and photoshoots—all amazing experiences that could guide your future career moves.
4. Represent An Eco-Friendly, Fair Trade, Cruelty-Free Brand
Launched in 1978, Aveda was eco-friendly before eco-friendly was cool. Since then, Aveda products have been made only from pure, organic and responsibly sourced botanical ingredients. No Aveda products are ever tested on animals, and many are vegan (all of them will be vegan by 2021!).
Aveda's sustainable business practices have been groundbreaking as well. Aveda was the first beauty company to manufacture all products with 100 percent wind power, and the first to use 100 percent post-consumer recycled materials in packaging.
Aveda salons and spas are committed to upholding the mission through eco-friendly business practices. They lead their communities in fundraising for environmental organizations and other nonprofits. In the past 20 years, the Aveda network has raised over $60 million for environmental causes.
5. An Absolute Killer Cosmo Curriculum
Aveda Institutes' curriculum teaches twice the techniques in cutting, color, texture and facials than leading national cosmetology textbooks. Here are some of the biggest points of difference.
Learn By Doing: When it comes to learning cosmetology skills, there are three things you need to do: practice, practice, and practice. Class time is needed to introduce some information, but make no mistake—as an Aveda Institute student you'll be spending the majority of your time on your feet, in front of a mannequin or a live model, taking that class material from theory to skill.
With the majority of learning time dedicated to hands-on practice—in teaching salons and spas that look, feel and function like actual Aveda salons and spas—Institute students get the very best preparation for life after graduation.
Texture Pro: Aveda Institutes' new texture curriculum features 3 cutting techniques, 3 color techniques and 6 styling techniques.
Virtually Amazing: For online education, Aveda Institutes use LearnAveda.net. This is Aveda's cutting-edge teaching program with a social media feel, so students can share, communicate with and inspire each other as they're learning.
Ready to see what your local Aveda Institute has in store for you? Click here to find the Aveda Institutes near you.